The purpose of summer reading is to encourage students to practice reading skills and develop an enjoyment for reading. This year, our focus is student choice.
Families of students in grades K-5 are encouraged to add any books that are appropriate for your reader. The staff in the Children/Youth Services area of the Huntsville-Madison County Public Library and/or other local library branches will also have many wonderful book suggestions.
Students in grades 6-12 are required to complete a Book Talk assignment no later than Friday, August 25, 2023 or Friday January 26, 2024 (for students on Traditional Block taking it Spring semester). In keeping with the focus of student choice, this year students will be able to select their own books according to the criteria outlined in the expectations section below. Instructions for the Book Talk assignment may be found below.
*Please note that AP and IB Language students also have an additional book requirement that is usually read and taught during the first nine weeks of school.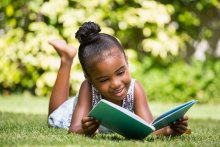 Grades K-5 Suggested Reading